Post by psijaka on Oct 14, 2011 7:03:49 GMT -5
Below are the first in a series of Battlefield Play4Free weapon charts. Shotguns to follow soon.
EDIT: 1st Dec 2011 - Play4Free weapon customization is now available, so these charts are now obsolete.
I have been fiddling around with the format a bit and would welcome feedback.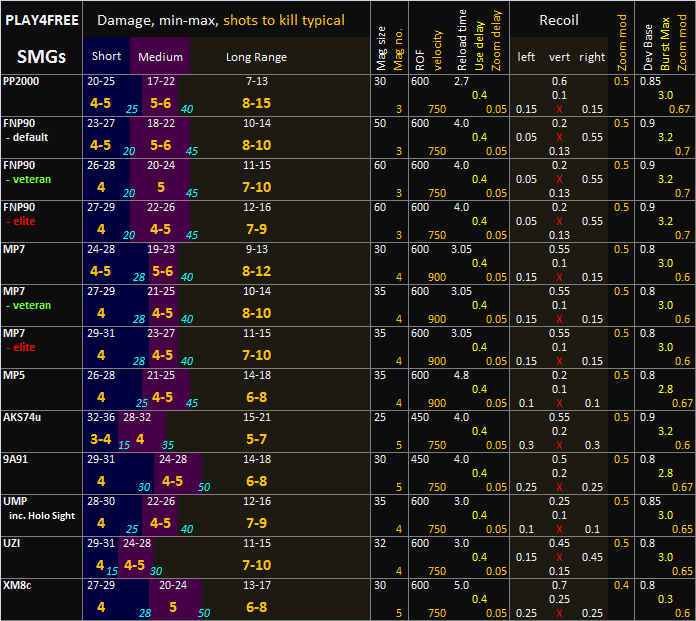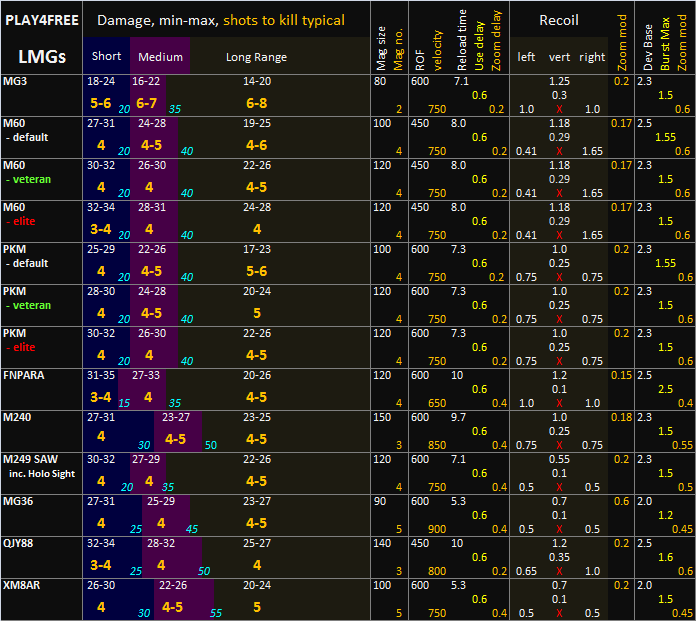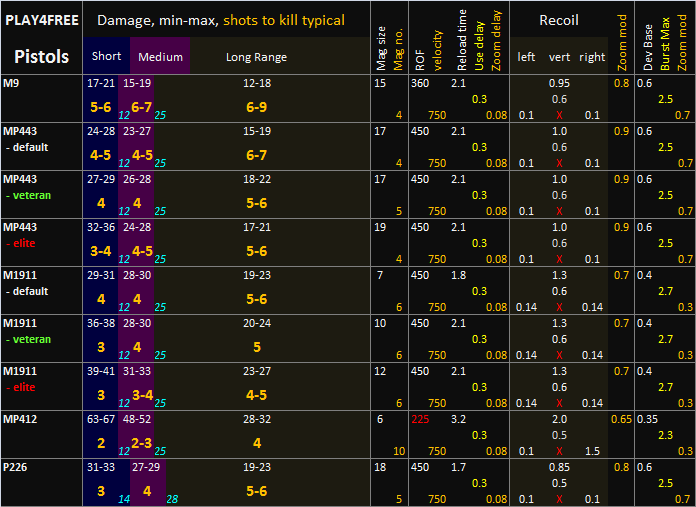 Error- elite M1911 is always a 4SK at medium range, not 3-4 as shown.
The data is derived from the .con weapon files, with the exception of the rate of fire, which is modified in game.
Explanation of the numbers where needed.
Damage is the range of damage over a given range.
Bullets to kill (in large orange text) assuming the minimum and maximum damage for that range.
Range is given in blue as well as being represented graphically.
ROF is based upon in game modifiers rather than the data in the .con file. Thanks to greatday2die for this info. Figures in red are raw data from the files; I do not know what the modifiers are for these numbers.
Velocity has an influence on how far the bullets drop with increasing range.
Recoil data is a bit confusing, as a negative number appears to indicate recoil to the right, which is counter intuitive. Test out the FNP90, which pulls strongly to the right. A zoom modifier is applied to reduce recoil when aiming down the sights (I think).
Base Deviation is the amount by which the bullets can deviate from the aim point. The Burst Max figure must be added to this if you fire a long burst. The Zoom Modifier reduces deviation when aiming down the sights.
There are LOTS of numbers in the files; for clarity, I have only included what I think are the most important. It is early days yet and I may have misinterpreted some of the data; if you spot any errors, please let me know.
Further reading:
Solid's charts -
battlefield.play4free.com/en/forum/showthread.php?tid=39848
Comparison tool -
alchemical.cc/bfp4f_tools/compare
For MW3 Recoil Plots -> denkirson.proboards.com/index.cgi?board=general&action=display&thread=3256
---
EDIT
24/11/11 - Pistols added
12/11/11 - V4 versions, with range of bullets to kill instead of single number where applicable. Snipers added.
02/11/11 - V3 versions of SMG and AR charts added, along with explanation of numbers. LMGs also added. Link to Solids charts.